FREE SHIPPING POLICY (contiguous 48 United States only, for a limited time only)
*Free Shipping excludes closeout, sale and custom orders
Currently the checkout process only allows shipments to the United States and Canada. However, if you call us at (800) 336-2802 or email us at customerservice@hangers.com we can arrange for shipment anywhere else.
SALES TAX
Sales tax is charged on orders delivered to California, Florida, New Jersey, Tennessee, and Texas. There is no sales tax on orders delivered to any other state at this time, but our policies will be updated when Federal and State requirements mandate.
POSSIBLE SHIPPING DELAYS
Due to high demand and COVID related supply chain deficiencies, orders may experience abnormal delays. Thank you for your patience in advance.
GROUND SHIPPING TRANSIT TIMES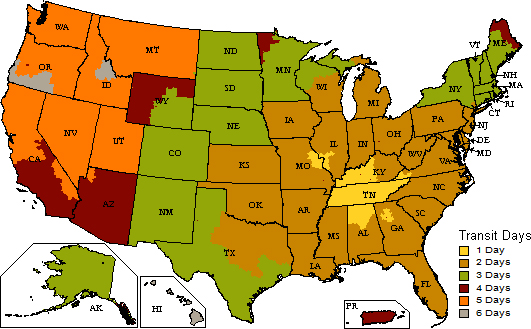 INTERNATIONAL SHIPPING
For items shipped outside of contiguous 48 United States and Canada including Hawaii, Alaska, Puerto Rico and US Protectorates please send us an email at customerservice@hangers.com containing the following information:
Your name and telephone number
Your desired purchase; product id(s), quantities and price per carton
The postal or zip code to which the items are to be shipped
Whether the location to which the items will be shipped is a residence or business
Once we receive your email we reply with a freight quote (this does not include duties, tax, customs and other fees that are associated with outbound shipments) for which we will wait for your confirmation. All international orders are delivered via small package carriers. All dollar amounts stated on this site are in U.S. funds. International customers are fully responsible for all duties, tax, customs and other fees that are associated with their outbound shipments.
ORDER PROCESSING
Orders are processed for shipment Monday through Friday only and usually ship within 48 hours from the time of receipt provided the item(s) are in stock. Orders are processed for shipment Monday through Friday. In the event that your item is not in stock, you will be notified via email or phone. Please note: Our carriers do not currently deliver to APO's, FPO's and PO Boxes. For shipments to APO and FPO addresses please contact us email us at customerservice@hangers.com to make the necessary arrangements. Shipping rates may vary. We do not offer PO Box Delivery.
EXPEDITED SHIPPING
All orders are shipped via UPS or similar carrier. Expedited orders, such as Next Day service, will ship from our facilities within 2 business days from the time the order is received. Following is an example on how to best estimate your delivery date:
 - An order placed on Monday via Next Day service would ship by Wednesday and be delivered on Thursday.
For additional information regarding our shipping times and services, please contact our Customer Care Associates at 1-800-336-2802. Please note a rush charge may apply.
CHANGE OF DELIVERY ADDRESS
If you need to change the delivery address on a completed order that has not shipped yet, please call us immediately at 1-800-336-2802 for alternative solutions. However, once an order has been shipped the delivery address cannot be modified.
CANCELING ORDERS
If you need to cancel an order that has not already been shipped, we may be able to cancel it. To do so, please call us immediately at 1-800-336-2802. If your order has already been shipped we will be unable to cancel it.