Hangers 101
Finding the correct hanger can be difficult, so we are here to help. Hangers 101 is a guide that conveniently lays out a variety of hanger characteristics, so you have a better idea about the intended function and options available.
Body

Flat
Flat hangers are perfect when saving space is a priority. A flat body style is the most popular and are great for shirts but are more prone to leaving pucker marks on the shoulder the a contour or concave hanger.

Contour
Contour hangers are designed to mimic the natural curve of our shoulders and allow the garment to hold their shape and hang as they will when worn, giving an unmatched presentation

Concave
Concave hangers are designed to maximize the benefits of a lower cost, space saving flat hanger, while allowing the garment to hanger similar to how it would on a contour hanger.

Pant
Pant / Skirt hangers designed with clips, locking bar, clamp mechanism, or flocked bar for pants or skirts. Depending on style and preference these can be used to hang garments full length or folded over a bar.
Hanger Sizing
Size Chart - Suggested Hanger Length
| | | | | | |
| --- | --- | --- | --- | --- | --- |
| Infant | 8"-10" | | Standard Women | 16"-17" | |
| Children | 12" | | Standard Men | 17" | |
| Juniors | 14" | | Plus Size Women | 18"-22" | |
| Petite | 15" | | Plus Size Men | 18-26" | |
Material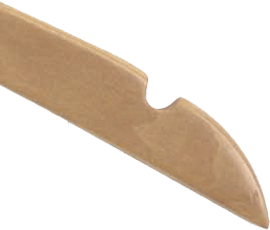 Wood
Wood hangers provide a strong sturdy and elegant option for use in both the home and the retail space. Wood hangers offer an upgraded look, feel, over some plastic and wire hangers.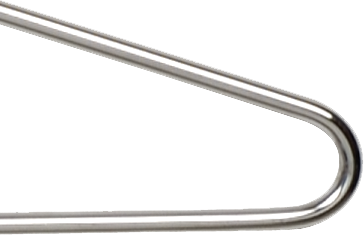 Metal
Our metal hangers are not your standard wire hangers, crafted from a thicker wire and then chrome plated, our metal hangers are a very rugged and functional option that provides a modern look and feel.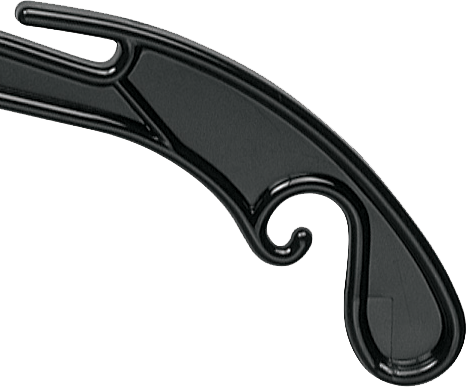 Plastic
Plastic hangers are great option when watching the budget without sacrificing function. We offer a wide range of plastic hangers in a variety of weights and styles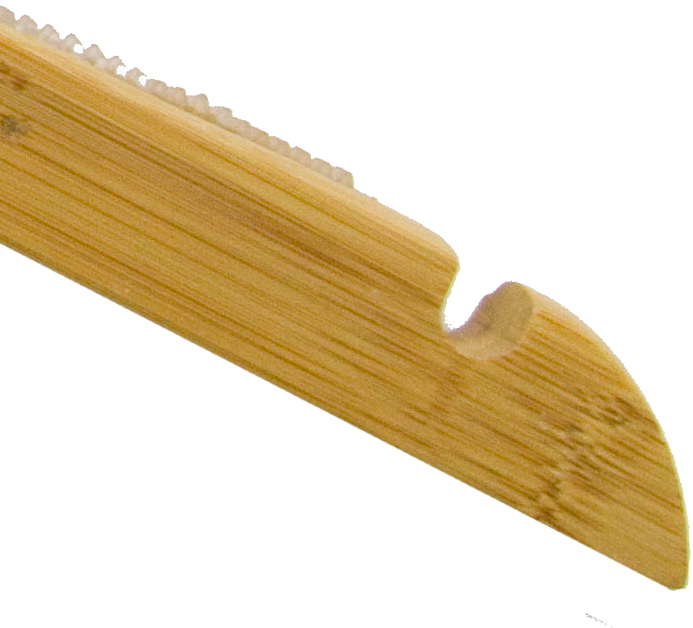 Bamboo
Bamboo hangers are a great option when looking for a beautiful Eco friendly alternative to other materials. Finished only in a clear lacquer allowing the hanger to still show the natural beauty of the bamboo.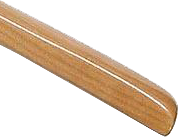 Alder
Hangers constructed from alder are the ultimate in wood hangers. Sourced from domestic sustainable farms alder provides a very rich detailed grain unmatched by standard wood.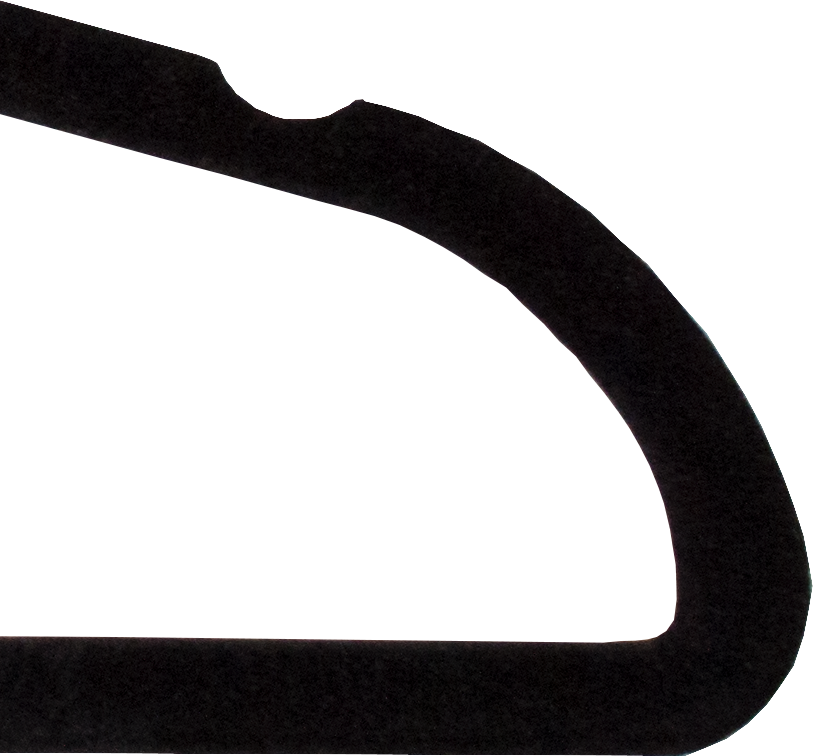 Velvet
The velvet texture is achieved through flocking the hanger to provide you with a non-slip hanger for those garments that have trouble staying on the hanger.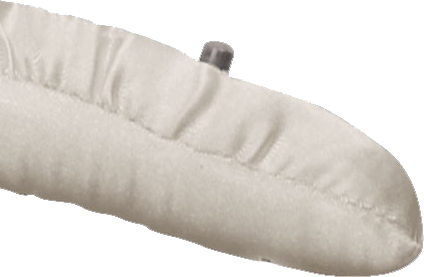 Padded
Satin padded hangers are designed to protect your delicate garments while providing a luxurious look and feel. These hangers feature a wooden core for superior strength.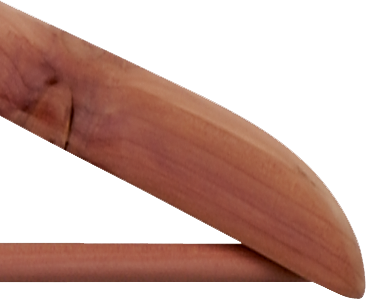 Cedar
Cedar provides the same high quality functionality as our standard wood hangers, but with the added benefit of cedars natural ability to repel bugs and keep your closet smelling fresh
Drops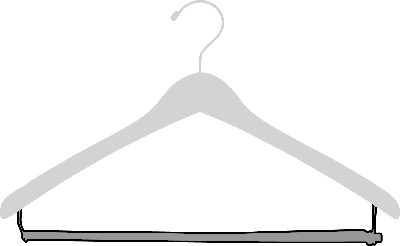 Locking Bar
Commonly found on contour suit hangers the locking bar has a wooden bar that the pants are laid over then the bar is locked into place securing the pants firmly.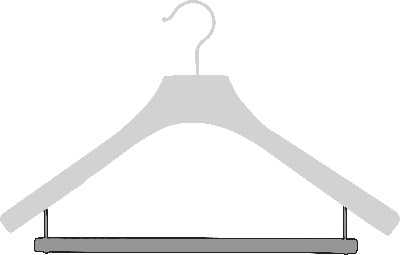 Flocked Bar
The flocked bar is premium option for hanging pants. Once laid over the flocked bar the velvet material keeps the pants from sliding off and will not leave creases in your pants.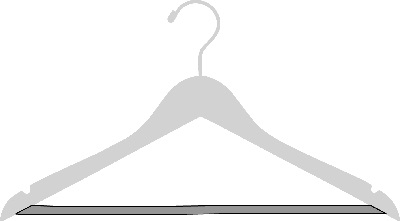 Permanent Bar
The permanent bar is designed to hang pants over, typically found on flat suit hangers. Although the most basic and cost friendly option the permanent bar is still an effective popular option.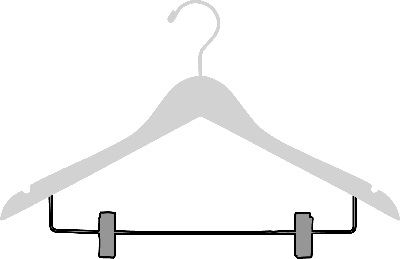 Clips
Primarily used for securing pants and skirts our clips are designed with non-slip rubber inserts to delicately grip the garment. We use only the highest grade springs to offer class leading clamping force.
Types
Bottom
Designed specifically with clips, locking bar, or flocked bar to hold pants or skirts.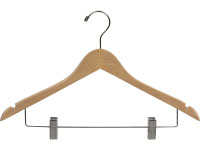 Clip
The clip / combo hanger is designed to hang a blouse or shirt and the pants or skirt on the same hanger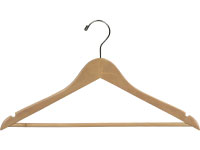 Suit
Suit hangers have a bar to fold suit pants over while hanging the jacket or shirt on the same hanger.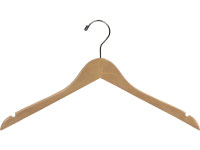 Top
Top hangers have no drop and are designed to hang a shirt, blouse or jacket on.
Features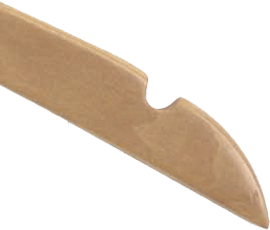 Notch
Many of our hangers include a notch in the arm of the hanger that is designed to hold straps and prevent garments from sliding off the hanger. The "U" notch is standard but we also offer specialty notches.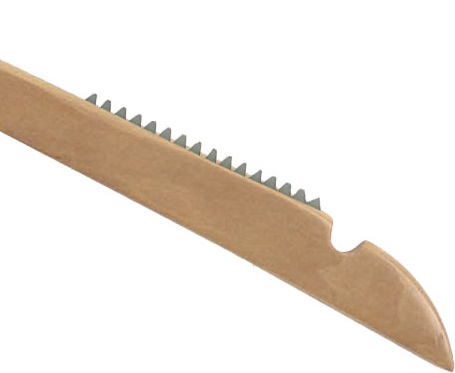 Rubber Strips
Glued in a routed groove along each hanger arm these strips of rubber teeth keep wide neck garments on the hanger. Providing a clean user friendly alternative kant slips or stick on options.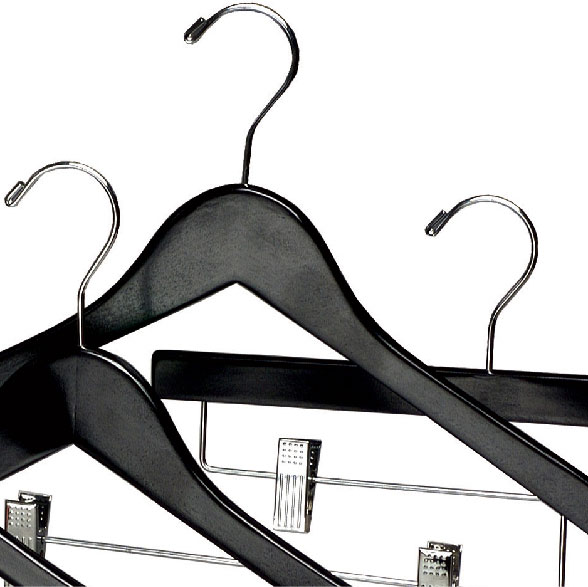 Rubber Coating
Rubber coated hangers not only provide a rich feel but the coating is non-slip and is another way to keep the garments on the hanger. This coating results in a matte finish and is applied over the finish / stain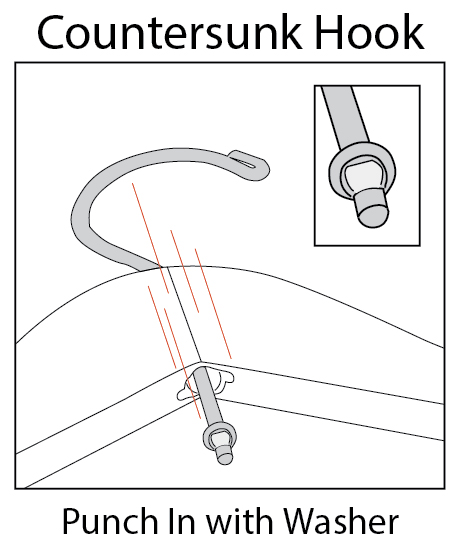 Countersunk Hook
Designed with durability in mind, the countersunk hook is a must have with heavy garments such as wedding gowns. The hook shaft runs through the entire neck of the hanger and is locked in place by a washer and crimp
Hook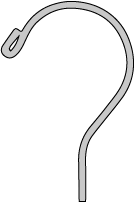 Turnback
Named after the bend located at the end of the hook, the turnback is the considered standard hook. The bent end or turnback helps to prevent snagging. Designed for a rod up to 1.5" in diameter.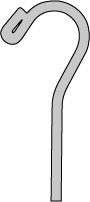 Mini
The anti theft mini hook is commonly used the hotel industry to prevent customers from leaving with the hanger, the smaller opening found on mini hooks requires a 5/8" diameter rod.

P-nail
The p-nail hook is commonly found in the hotel industry as a theft deterrent. Similar to a nail in shape, the head slides into the channel on the required a-ring or b-ring that are installed on the rod.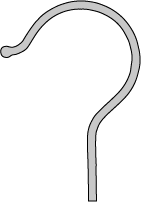 Ball Tip
The ball tip is named after the ball on the end of the hook. The ball tip hook is great for sliding across a variety of materials without snagging during use. Designed for a rod up to 1.5" in diameter.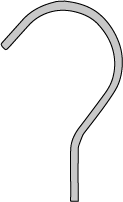 Blunt End
With a clean cut end of the hook, the Blunt End Hook provides a clean aesthetic. This hook functions just as a turnback or ball tip, and is a great alternative. Designed for a rod up to 1.5" in diameter.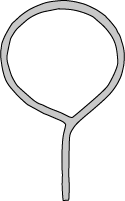 Closed Loop
The closed loop hook is a anti theft option that does not allow for the hanger to be removed from the closet rod it is installed on. Requires installation at the time of the closet rod with a diameter of 1.5" or less.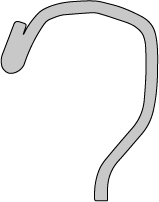 Square
Designed to hang more naturally on square fixtures. The bends in the hook allow the hook to hang from a 1.5" square bar and align itself correctly easier then a standard round rod hook.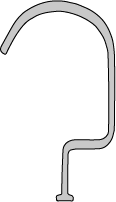 Flat
The most substantial option the Flat Hook is a great choice when looking for a hook that stands out. Crafted from a rectangular flat stock rather then the standard wire. Designed for a rod up to 1.5" in diameter.